Feast with Family & Friends
The dining room is a space for family, friends, and feasting, where you gather to celebrate the many occasions that make life special. When you are looking to redesign or repaint the dining room there are so many colour options, decor styles, and opportunities to make it one of the most welcoming spaces in your home.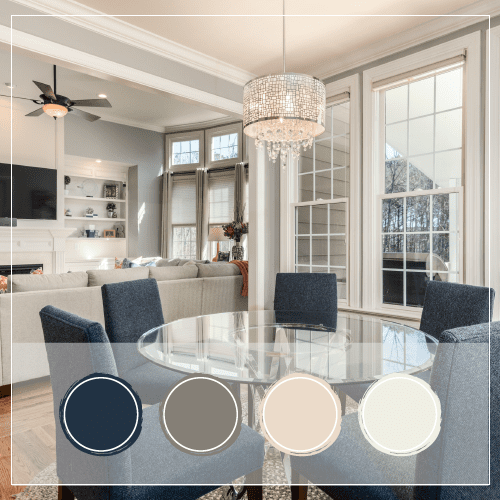 In a small space, casual elegance and a simple colour palette can go a long way to create an open and inviting dining space. Use of warm grey hues that are punctuated by bold upholstered chairs can make small space feel spacious.
Painting Tip: Consider painting your ceiling a different colour from your mouldings, trim, and walls. The use of colour on the ceiling can help elevate and define a space.
Bohemian rooms are leading trend with the use of greenery, exotic shapes, and simple clean-lined wood furnishings. If you're looking to add a touch of bohemian but want to keep a modern and bolder feel to your dining space consider the use of contrasting hues of orange, blue, and grey and consider a focal wall that is covered in textured wallpaper. 
Painters Tip: If you are juxtaposing a focal wall that is covered in wallpaper make sure to bring a sample piece of your wallpaper with you to the store so that you can ensure that the colour you choose for your wall is complimentary with the right undertone and hues to complete the look you are aiming for.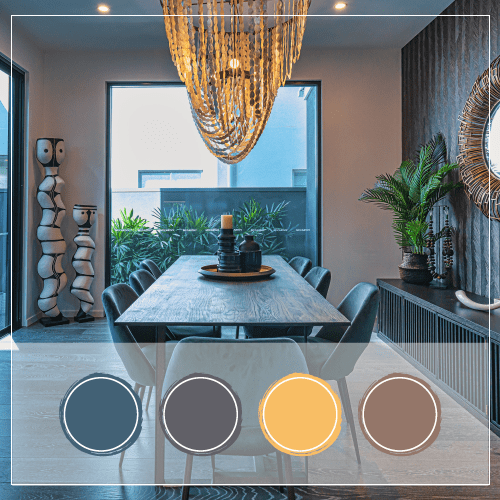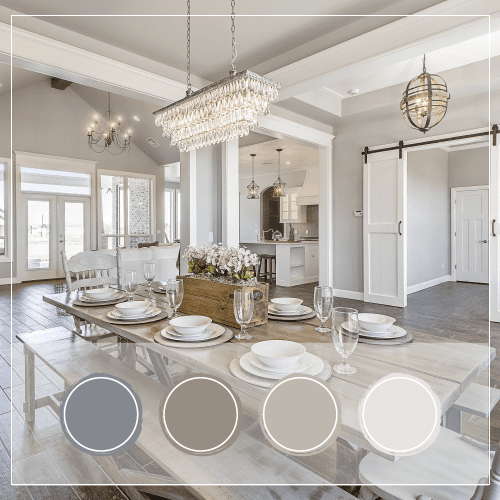 Creating a sleek and contemporary dining area includes the use of mouldings in the room, clean lines, stunning fixtures, and a palette that envelopes the room in light. You can select any shade of white or grey with undertone options that are endless to create the exact look you want. Don't be shy to mix up traditional style chandeliers with barn-style accents for a more relaxed and elegant yet contemporary style to your room.
Painters Tip: If you want to make your trim and mouldings stand out be sure to paint the ceiling and walls the same colour or at the minimum hue.
Minimalism works to simplify the layout, colour palette and overall design elements of a room. In this modern dining area, the windows and bold yellow accent chairs are what make the room but every other detail is not forgotten. Careful attention is made to ensure the drapes, wall colour, and table are all the same tone and colour while the lighting fixture adds that touch of gold to pull it all together.
Painters Tip: When colour matching fabric and paint it's important to test the paint colour on the wall before you commit to painting the entire room. Test a few colours and allow for 1-2 days drying time so that the colour cures and you get a good sense of what the finished tone and hues will be.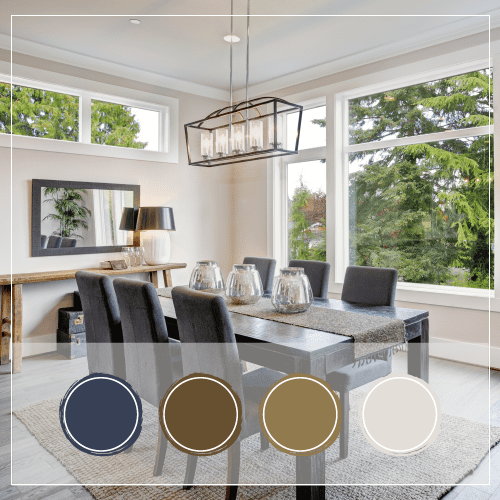 Any dining space can be given a touch of country charm with the use of warm colour pallets, sleek wrought iron and glass lighting fixtures and warm wool rugs and table runners. In this space, the wall colour is a warm sugar-white contrasted against a bright white for the trim. The lack of drapes helps bring the outside in and providing a spectacular view.
Painters Tip: Remember when painting with white to keep to the same hues and undertones for maximum effect in a room.
If you're looking to create a bold room don't shy away from the use of moody and dramatic colours, lighting, and styling. Black, wine reds, and rich greys can create a style that is reminiscent of your favourite chic restaurant. 
Painters Tip: Often people shy away from dark bold and rich colours because they are worried that they will be hard to cover over. Did you know that paint uses a specific compound TiO2 in paint — it is what makes white paint so brilliant and it is also the key ingredient in primers formulated to cover very dark colours. Paint products that contain high amounts of this compound are the best choice for hiding dark paint colours. Don't worry, dark colours can be easily painted over with the right paint.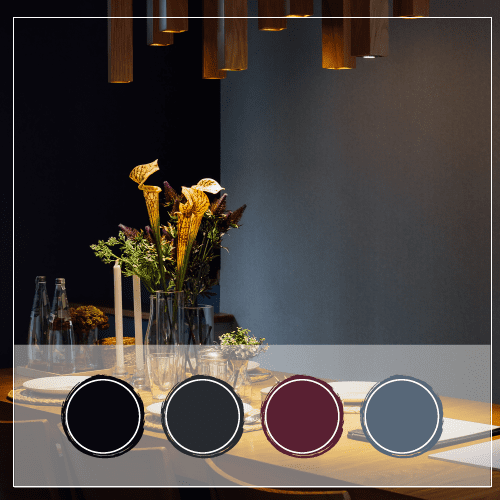 Same Room Different Colour
Ever wonder what a room might look like if it were painted in a different colour?
Explore the power of paint in our "Same Room Different Colour" series throughout the site.
CPCA Member Products
Buy from the Best
CPCA Member Companies and their products comply with ALL Canadian regulations – making them the most sustainable products available on the market. When you choose paint and coatings products manufactured and sold by our members you are choosing quality paints with product formulations that have been engineered to the highest standards. Take a look at what our members have to offer.
Didn't find what you were looking for?
CPCA's Dining Rooms Pinterest Board has inspiring rooms that will get your inner designer excited to paint!