Part of Canadian living is being in front of the water, or on your deck or patio space. In fact, cottage country offers both but maintaining your deck requires some care and knowledge of the substrate that was used to build your deck. When you're considering staining or painting your deck make sure to do the research, and don't be shy to consult an expert so you can maximize and make the most of your outdoor living space. There are many excellent stains for your wood deck with or without pigments that will make your deck soar and protect it from the elements over the years.
Composite wood is a common alternative when building a deck. It's made primarily of wood fibre and plastic which is either sourced from recycled materials or new. The wood/plastic is a mix of pigments, UV inhibitors and preservatives so you know you'll have a deck that lasts a long time. 
Painting Tip: Composite decks don't require much maintenance other than a good cleaning and don't need to be coated like real wood, however, when your deck reaches a certain age and begins to fade it can be painted. You'll need to thoroughly clean the deck and make sure you buy the proper paint or stain that will adhere to your substrate.
When building an outdoor living space the gazebo is often the go-to structure for privacy and added warmth. Adding a fire-pit is like icing on the cake, although be aware that if you are adding a fire pit on a wood, composite or vinyl deck it must be approved by the manufacturer, city code and have a non-combustible base.
Painters Tip: A gazebo is often made with wood, 8" x 8" posts on all four sides. Some will choose cedar, others pressure treated lumbar. It's important to note that if you are building a gazebo, or deck with pressure-treated wood you need to wait 3-4 months for the wood to fully cure prior to painting it.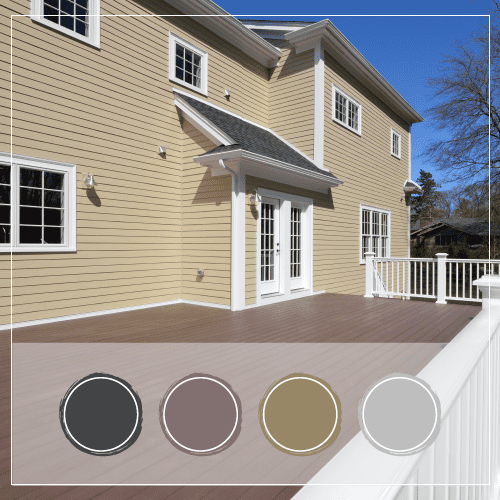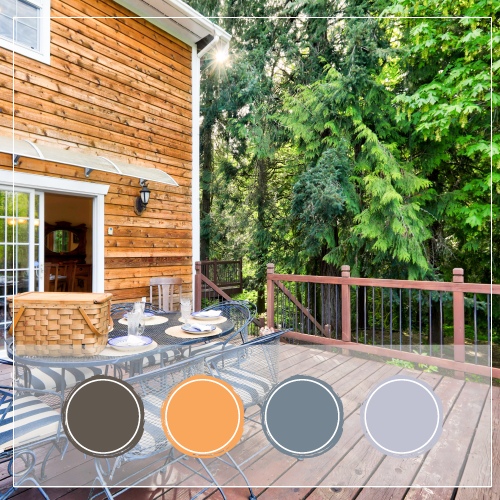 Cedar is a longstanding tradition when it comes to building a deck. The look and substrate are timeless, and it also smells great! Most will stain or seal their cedar decks to extend the life of their outdoor living space.
Painters Tip: If you are looking to maintain the look of your cedar deck consider a semi-transparent stain that will protect against the elements and allow you to enjoy the warm glow of its natural wood grain.
When you have a wood cedar deck with a built-in pool the ambience couldn't be more relaxing and inviting. However, to maintain that you have to consider the best sealer to protect the wood from continuous exposure to water. 
Painters Tip: There are many stains and sealers that will protect both wood and concrete decks from water. When painting you'll need to consider when you paint, exposure to the sun, and temperature to ensure that your paint and sealer are applied and dry properly.
Traditional elegance continues to be a mainstay in kitchen design. Architectural features like arches, shaker style cabinets, and grand ranges and fans makes this white kitchen crisp, elegant and inviting. The barn-style elements like the door or the lighting fixture and wood chairs add a sense of warmth to the kitchen and the grey and white hues that cover the walls are soft with light and warm undertones. 
Painters Tip: When using a primarily white and grey colour pallet make sure that the undertones of both the grey and white are the same otherwise the end results may create unwanted contrast.
CPCA Member Products
Buy from the Best
CPCA Member Companies and their products comply with ALL Canadian regulations – making them the most sustainable products available on the market. When you choose paint and coatings products manufactured and sold by our members you are choosing quality paints with product formulations that have been engineered to the highest standards. Take a look at what our members have to offer.
Do you have outdoor patio furniture in need of a coat of paint? Take a look at our tutorial on how to paint metal patio furniture.