Optimize Your Space for Work
Whether you need a space for occasional work on home expenses or you are working from home your office space needs to be functional. Consider creating a clean, spacious place that is free from clutter and distractions and that will optimize your attention and ability to get work done quickly. There are many ideas available for the home office, browse below to get inspired and find what might work for you.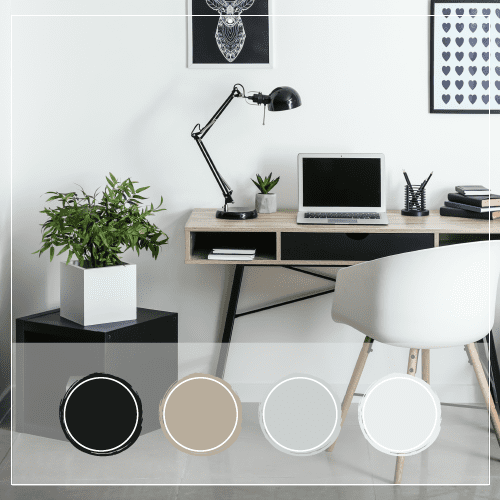 Remove distraction with a monochromatic colour scheme in small office spaces. This design trend allows for a small space to achieve a clean and efficient look while still being stylish. Remember with monochromatic designs all features from wall paint to furniture, fixtures and functional design elements are all within the same colour tone and hues.
Painting Tip: While monochromatic styling is traditionally in the black, white and grey hues and tones, consider using colour and create a monochromatic room in one colour or tone.
Traditional offices are still a mainstay in working spaces, with their formal set up, muted colour palettes, and clean design elements. When painting a formal office space consider using the same colour for bookshelves and wall trim and extending wall colour by painting the backs of bookshelves the same colour or a darker tone of the wall.
Painters Tip: When painting trim, shelves, or cabinetry use a quality painters tape to create clean edges. Remove all cabinet doors and paint them separately.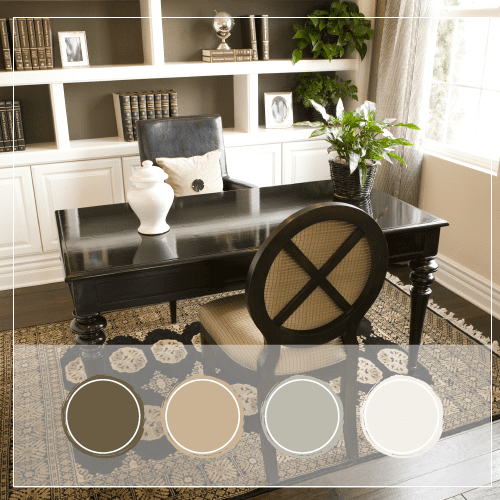 Casual, bohemian spaces are often light, airy and relaxing. The use of white, cream or soft pastel colours helps to create this look. It's important to note that simple furnishing and the use of plants or wood accents are focal elements in bohemian design.
Painters Tip:  Consider painting desktops or furnishings to help create a light space and to bring your colour choice into the room before purchasing new furnishing.
Less is more as the saying goes. When looking to create a minimalist working space consider pairing down on accessories, and pick colour palettes that will allow for your space to feel big bright and inviting. 
Painters Tip: Neutral tones offer a variety of light colour options and working with tone on tone can create a simple yet striking look for any room.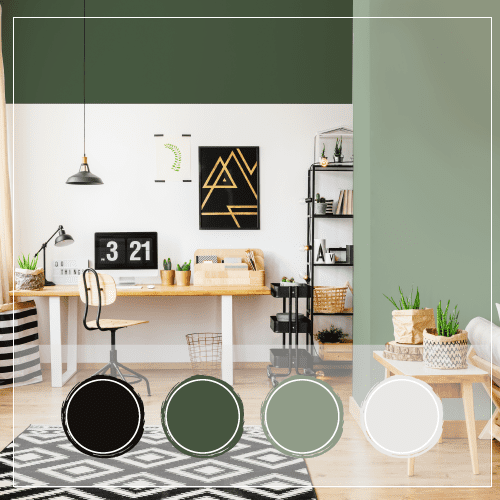 Casual office space can be accentuated at home by using colour blocking techniques. These are especially effective if you have high ceilings. Consider painting in two tones of the same hue to maximize the effects of colour blocking.
Painters Tip: Be sure to purchase a quality painters tape that will ensure there is no bleed-through when applying paint to the wall.
Often in small spaces the kitchen doubles as an office space, but it doesn't need to be drab or boring. The use of warm colours can create an inviting corner for focused work.
Painters Tip: When working in a room that is dual purposed consider the placement of the in-kitchen office away from the central cooking area. The use of colour will help create a divide between spaces.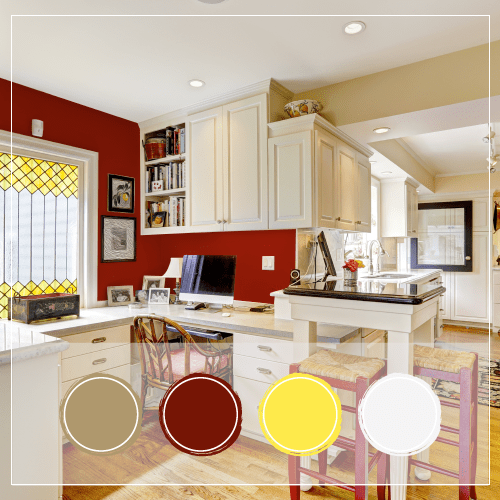 Same Room Different Colour
Ever wonder what a room might look like if it were painted in a different colour?
Explore the power of paint in our "Same Room Different Colour" series throughout the site.
CPCA Member Products
Buy from the Best
CPCA Member Companies and their products comply with ALL Canadian regulations – making them the most sustainable products available on the market. When you choose paint and coatings products manufactured and sold by our members you are choosing quality paints with product formulations that have been engineered to the highest standards. Take a look at what our members have to offer.
If you're ready to paint your office check out our How-to tutorial on painting a room.