After a long day at work, the living room is the space that wraps the entire family in comfort and warmth. It's the space where memories are made so why shouldn't it be given every attention when considering repainting. When reselling your home, a tasteful redesign or remodel of your living room space can be worthwhile. When repainting consider where the living room is situated in the home. If the house is an open concept consideration needs to be placed on how the changes will affect the overall mood and atmosphere throughout all connected rooms. 
Monochromatic spaces are a popular trend in interior design. A black and white monochromatic colour scheme can create a simple, modern yet impacting room. When painting use the same hue throughout all elements in a room, from the floor to the furniture including wall paint colour, artwork, fixtures and decorative details.
Painting Tip: When selecting the paint colour for your walls remember to choose colours that have the same undertone otherwise you may create unwanted contrast which will disrupt the monochromatic look you are trying to achieve.
Traditional elegance in a room is still a go-to style for many homeowners. It's classic lines, exquisite moulding and trim work make for an upscale look. There are many things that can be done with a traditional room from painting the ceiling to using complementary hues from trim and windows, and subdued colour to create a room that is more calming.
Painters Tip: If you choose to paint your ceiling, trim and walls, start with the ceiling and work your way down. Remember to use painters tape to protect areas that have already been painted and to help create a clean edge.
There is nothing quite as welcoming as when you bring the outdoors in. The use of warm oranges and sea blues can give a room the feeling of a beachside retreat. When you juxtapose this with natural fabrics, wood decor, and ceramic details a warm bohemian retreat is created.
Painters Tip: Consider purchasing decor that is a contrasting colour to your wall colour to add a pop of colour.
Minimalism is a design trend that uses soft hues or white to make a space appear large, inviting, and simplistic. Everything from wall colour to decor selection is paired down for maximum effect. Make no mistake, minimalistic design is not easy as it requires restraint in colour choices, decor, the use of clean lines and simple furnishings.
Painters Tip: If you are using white to paint your walls, be sure to choose a white hue that matches the undertone of existing furniture and fixtures. You may need to consider painting the fixtures as well to make the look uniform.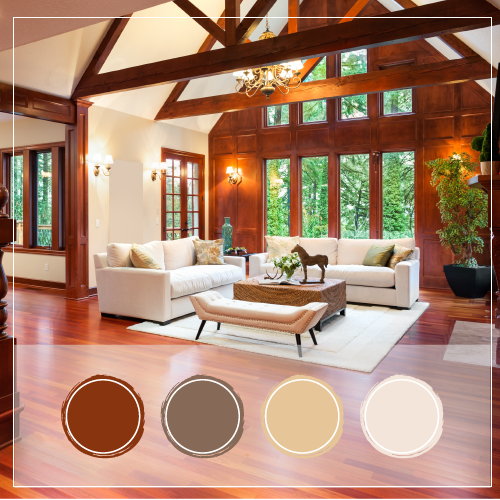 Wood, box beams, and wood panelling can create a dramatic, warm, and rich feeling in a room. In this modern and contemporary room, the wood features are gleaming and contrast well with the creamy white walls and furnishings. 
Painters Tip: Once you have stained your floors and walls it's important to remember that wood will need care and maintenance over time. Hand-rubbed finishes, stained-wood or natural finishes require special care using a product that will not dull, discolour or stain the surface.
Vaulted ceilings provide the perfect opportunity to create a focal wall. In this room, soft white and greys are used and the green focal wall provides just the right amount of colour to create a casual and comfortable atmosphere.
Painters Tip: When painting a high vaulted wall, consider using pole extenders to reach the top of your ceiling.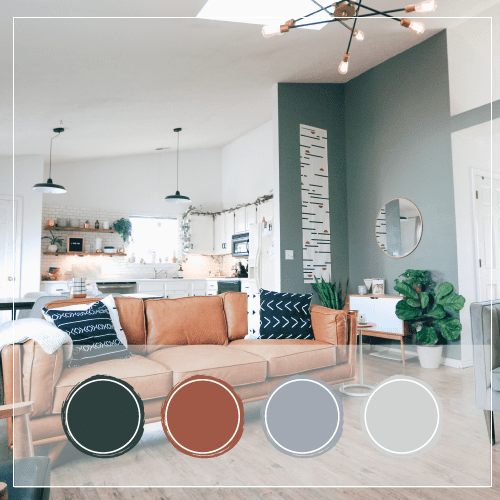 Watch it. Do it.
Check out
Lone Fox
and
5-Minute Crafts
on YouTube to Watch
an Extreme Living Room Makeover and Some Great Texture Ideas.
CPCA Member Products
Buy from the Best
CPCA Member Companies and their products comply with ALL Canadian regulations – making them the most sustainable products available on the market. When you choose paint and coatings products manufactured and sold by our members you are choosing quality paints with product formulations that have been engineered to the highest standards. Take a look at what our members have to offer.
Ready to take on your next painting project?
Read our step-by-step preparation guide complete with industry best practices to help you achieve the best results.