The bathroom is the water oasis of the home providing a space to relax and rejuvenate. It is also the one space where 65 per cent of household water usage occurs. That's a LOT of water usage and definitely proof that careful planning and attention needs to be paid when considering a makeover. Take a minute to consider how much of a transformation can be done using paint. From painting the walls and the cabinetry, you could even conceivably paint the floors or stain them if they are concrete or old wood, as many do in cottages. Before you tackle this project, you'll need to consider the type of paint you use. Bathrooms are high-moisture areas so you will need a paint that can withstand the heat, high-moisture, and is mildew-resistant. There are so many ways to change up the one space in the house meant to relax and rejuvenate.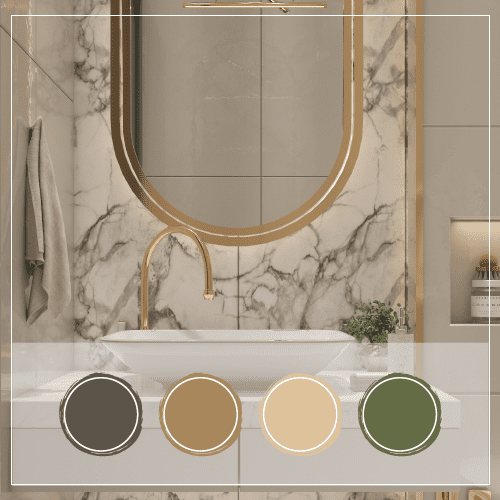 Gold faucets and fixtures are quickly becoming the go-to addition for a dramatic bathroom renovation. When looking to upgrade the look of your bathroom with a look that will impress, consider rich golden hues, use gold or brass fixtures and lighting to accent the colours you choose for your walls, tile, and cabinets. 
Painting Tip: If you have chrome faucets and fixtures and don't have the budget to replace them, consider painting them. There are many oil-based paints that will cover and paint faucets and fixtures to your desired finish. There are many oil-based paints that will cover and paint faucets and fixtures to your desired finish. 
In a bathroom, dark bold hues and rich woods create a statement. Don't be afraid to blend rich woods and warm tile with stone and deep grey hues to create a rich and inviting bathroom. 
Painters Tip: When wanting to match the colour of your wall to the colour of your tile it's best to view the tile and paint swatches under natural light to see the full spectrum of colour.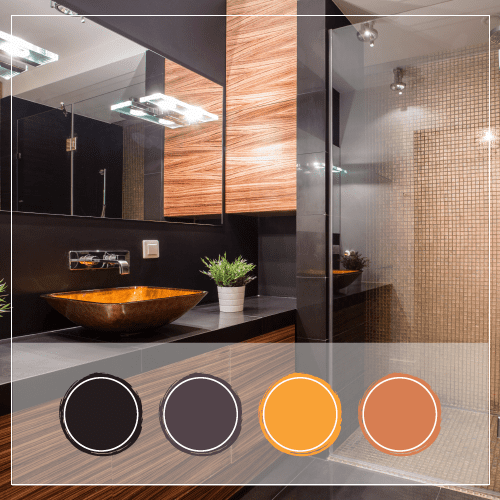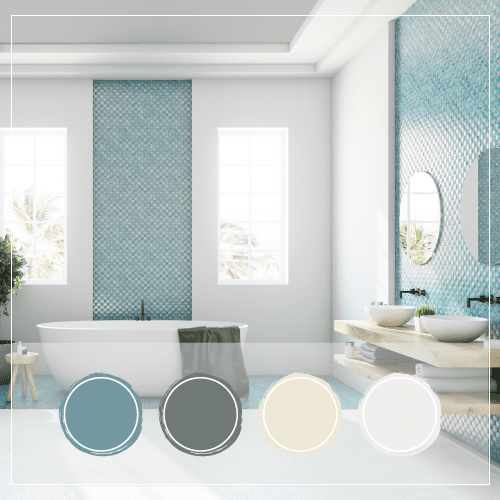 Creating a sleek and contemporary bathroom is all about clean lines, light and airy colour palettes, and minimal contrasting elements. In this bathroom, the recessed ceiling is block painted in a light grey and the clean line of hexagonal patterned tile leads you into the bath. The faucets and fixtures are simple and elegant creating an open and airy feeling. 
Painters Tip: When painting a recessed ceiling be sure to tape off all edges you want to protect from being painted, but also cover all the flooring and furniture below so that it is not subject to paint spatter. 
This minimalistic bathroom is embracing the feeling of a spa with the use of wood and a gleaming white bathtub. When cladding your walls with wood you'll need to consider the appropriate stain and finish that will withstand the heat, moisture and use in this high traffic area. 
Painters Tip: If you're looking to create a minimalist feel with wood be sure to select the right stain and finishing coat that will extend the life of your wood finish. If you choose to simply paint the walls select a bathroom paint in a semi- or high-gloss finish that is designed for kitchens and bathrooms and high moisture areas of the home.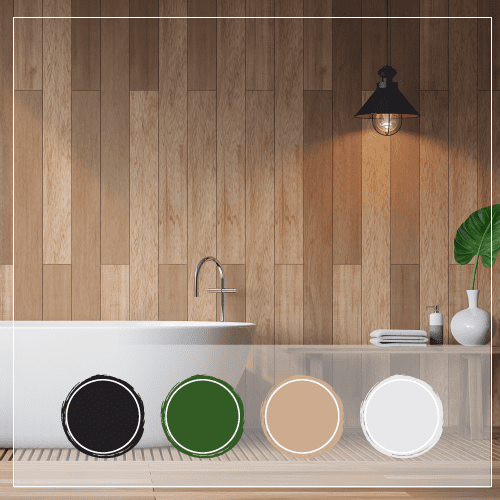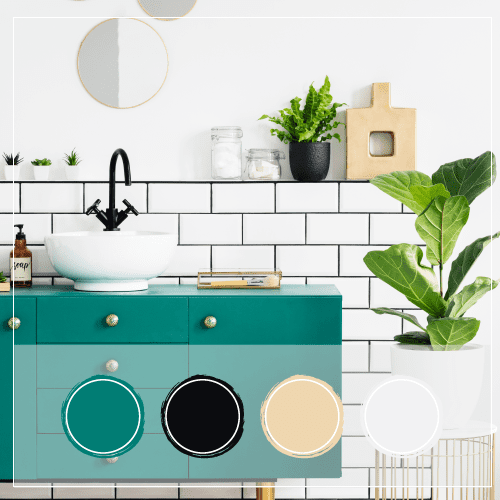 Adding a bit of country charm to your bathroom is as easy as some linear tile and adding a splash of rich colour to your cabinets. High gloss finishes on the cabinets always yield the best results and protect against moisture and humidity.
Painters Tip: When painting a cabinet with oil-based paints it's important to do this in a well-ventilated area. Open windows to allow a flow of fresh air to flow through the area you are using to apply paint.
The use of glass, sleek clean lines and beautiful fixtures and finishes still continue to make traditional and contemporary bathrooms the style of choice. When looking to create this look in your bathroom chose muted and neutral hues and tones. Often tone on tone can be used to create a unifying look that is simple and not overstated.
Painters Tip: When using a primarily white and grey colour palette make sure that the undertones of both the grey and white are the same otherwise the end results may create unwanted contrast.
Watch it. Do it.
Check out
Kristen McGowen
on YouTube to Learn
How to Do an Extreme Bathroom Makeover Step-by-Step.
CPCA Member Products
Buy from the Best
CPCA Member Companies and their products comply with ALL Canadian regulations – making them the most sustainable products available on the market. When you choose paint and coatings products manufactured and sold by our members you are choosing quality paints with product formulations that have been engineered to the highest standards. Take a look at what our members have to offer.
Ready to take on your next painting project?
Read our easy nine-step tutorial and give your bathroom a refresh in a weekend!