From Storage to She-Sheds
It goes without saying that if you have even a small piece of land you will inevitably own some kind of utility shed. Sheds have been used for hundreds of years for additional storage and continue to provide utility for homeowners. There is also the trend of man-caves and she-sheds that offers a new take on sheds. No matter the use when it comes to added storage or just a space to relax there are endless options, and design styles available.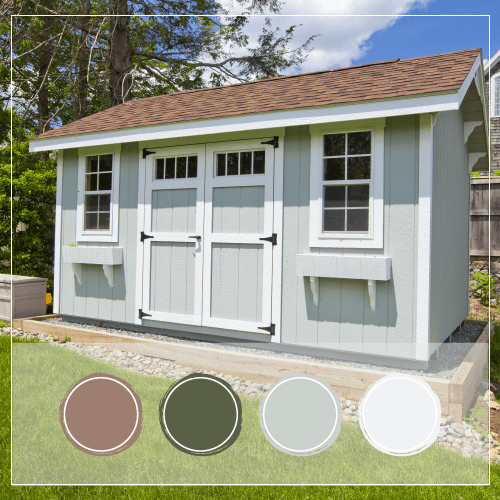 These beautiful sheds originating from late nineteenth-century England are a reminder of the quality and artisanal styling of that era. With sloped roofs, ornate window trim and detailed door hinges these sheds are both aesthetically pleasing to the eye and massively useful with a lot of interior storage.
Painting Tip: Most Craftsman sheds are built entirely of wood making the painting or staining options endless. You can choose to keep the look of the natural wood and stain your shed in an array of beautiful colours that will highlight the beautiful wood grain, or you can choose an exterior acrylic paint in any shade and customize the colour of your shed to suit your yard or compliment flower beds.
Barn style sheds are almost a mainstay if your driving through the countryside, and for good reason. Not only do they have an architectural appeal that is reminiscent of a simpler time, but they also have a lot of storage space. Both overhead and along the walls making them a great choice when considering your next shed for yard storage.
Painters Tip: Barn-style sheds are traditionally made of wood exclusively so there needs to be some care and attention paid to the preservation of the wood so that your shed lasts. Along with paint, you may want to consider a wood sealer that will protect the exterior of your shed from rot and decay.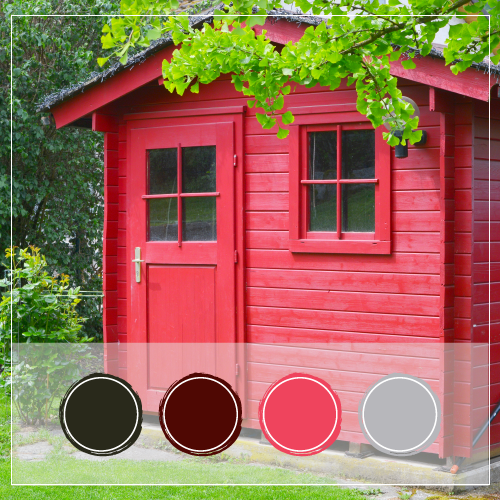 A-frame sheds are classic, affordable, and offer a lot of flexibility in terms of use. From garden sheds to bespoke man caves or she-sheds this style of shed can turn your backyard into an oasis with its own private retreat. With large doors, windows, and that classic roofline the storage options are endless.
Painters Tip: A-frame sheds are often built using any number of substrates - from wood to siding, metal roofing. Whatever the material when painting be sure to get the right paint to suit the job. 
With this style of shed, the single sloped roofline is what makes this it so modern looking, along with the windows and large double doors. The flat-roofed modern shed is among the latest in architectural trends with their simple lines and clean aesthetic. 
Painters Tip: Most modern sheds have a muted colour pallet while keeping the interior of the shed white to maximize the light coming in.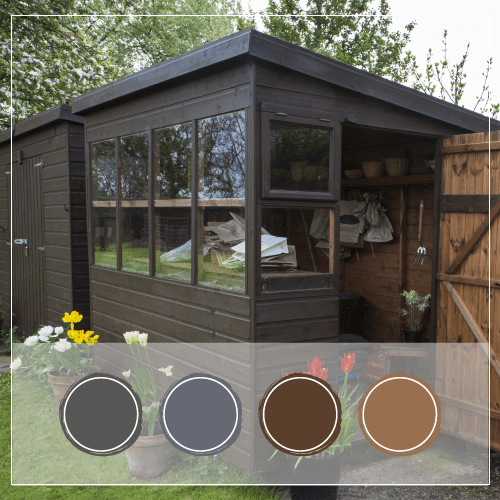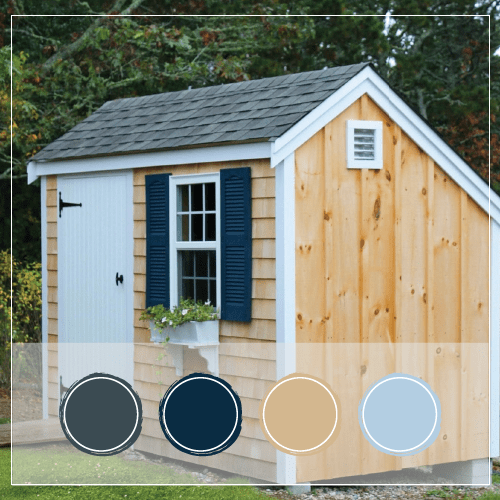 The saltbox shed dates back to the 16th century when they were used as an addition to existing homes. The saltbox shed has a high-peeked making entry to the shed easy and the sloping peek in the back makes it easy to access items stored on the shelves. Saltbox sheds are built entirely of wood.
Painters Tip: Like other exterior elements of your home, consider applying a fresh coat of paint every 2-4 years to protect the wood from rain, rot, and extend the life of your shed.
Call it a workshop, or a man cave, or a she-shed. The idea is that it's a bespoke space made for a singular purpose - relaxing, a hobby, or football. And while we're on the subject of relaxing let's be real — it doesn't matter how old you are having a "fort" in the backyard is cool! Most workshop-style sheds are A-frame for their ease of construction and affordability and can be built quickly to any size.
Painters Tip: The options are endless when creating your own workshop oasis. You can style it, paint it any way you like. If you are building a workshop using a variety of materials be sure to select the right paint for the material to preserve and protect for years to come.
CPCA Member Products
Buy from the Best
CPCA Member Companies and their products comply with ALL Canadian regulations – making them the most sustainable products available on the market. When you choose paint and coatings products manufactured and sold by our members you are choosing quality paints with product formulations that have been engineered to the highest standards. Take a look at what our members have to offer.
Getting ready to paint  your shed or deck? Check out our tutorial with step-by-step instructions on how to properly paint or stain exterior surfaces.