Restore • Recondition • Reuse
Refinishing is essentially the term applied to anything other than the usual paint jobs in your home apart from the usual use of architectural paint for the interior and exterior surfaces of your home. Many have encountered auto refinishing due to accidents, scratches and dents, but paint and coatings defines the term refinishing for the many other objects in your possession — old and new. It provides an opportunity to breathe new life into old tools, lamps, pots, and other useful items around the home. Many of those still provide utility but have an extra layer of wear and tear, rust, corrosion or the lack appeal aesthetically. The trend is now toward restoration of beautiful and well-loved objects, as one can see YouTube with before and after shots.
Never attempt to paint an existing wood surface without preparing its surface. Applying a direct coat of paint over the old coating will not work and eventually will tend to peel, especially if it has a glossy finish. This painting technique needs to prepare the wooden surface first.
Repainting Tips
If you're repainting, first assess the paint condition of the surface. If the paint is peeling, you must scrape it to remove old paint coats. Afterwards, the surface will need to be smoothed with 180 grit sandpaper to create a smoother surface. Never attempt to paint an existing wood surface without preparing the surface. Applying a direct coat of paint over the old coating will not work and eventually will tend to peel, especially if it has a glossy finish. Prepare the wooden surface first with these simple steps:
Gently sand to create a grip on the surface to be painted with 280-grit sandpaper. Architectural paint will not be lead paint unless in very hold heritage homes as it has been regulated in Canada for many years.
Remove loose particles.
Apply one coat of undercoat and let it dry following manufacturers recommendations.
Apply the topcoat, let it dry, and then apply the first layer of finish, satin, semi-gloss, or gloss, if it is required for that surface and allow it to dry. Sand in between coats for a smoother finish if required for if the surface is rough.
You can use a primer to thoroughly cover the old colour, then apply 1 or 2 coats of the new paint. Paint & primer in one paints are a newer option, which could be ideal for your situation and even shorten the project.
One way to prevent, or slow, corrosion is by coating the metal. Coating prevents water and oxygen from contacting the metal. Paint or other coatings will slow corrosion, but they are not effective once scratched.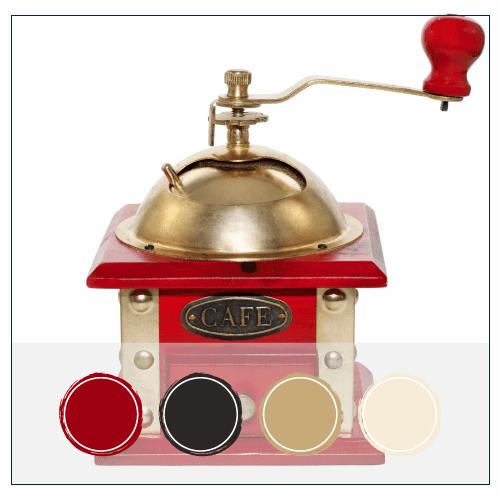 Old coffee grinders are made of wood and brass, often with several pop rivets. When refinishing all the pieces will need to be taken apart and special care will need to be taken when reassembling if you want to actually use the grinder when you are done. You need to use food-safe oil when reassembling parts.
Painting Tip: If the wood pieces are worn or have holes use wood filler, sand, and a few coats of primer prior to painting.
Restored Copper Watering Can
Antique water cans often feature long elegant spouts and are made from copper. They make for nice discussion pieces when decorating a room, and if well maintained are functional for years to come.
Painters Tip: When you are finished restoring copper consider anticorrosive protective spray-on coatings for copper to extend and protect the life-cycle of your newly restored watering can or other copper pot or pan.
A beautiful oil lamp can conjure memories of camping. Restoring an oil lamp requires careful attention as you are working with glass, metal, and oil, however, the end results are beautiful.
Painters Tip: Use a spray gun to apply both the metal primer and finishing top coats.
Antique tools were made of quality metals, solid woods and were built to last. Refinishing them will leave you with a functional and beautiful tool to use or leave on display in your workshop.
Painters Tip: Many tool refinishers use a blueing agent or black oxide to naturally coat and protect steel.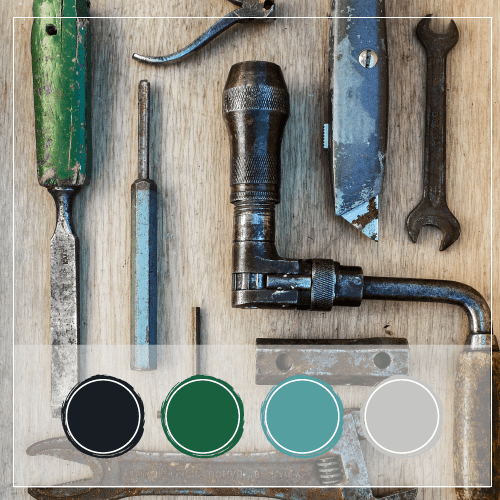 There are both commercial metal cleaners and natural products you can use to clean and restore beautiful antique brass pots, planters, and other things. Adding brass elements to your room decore can elevate or create an old-world feel to your space.
Painters Tip: Brass begins to tarnish the minute it is exposed to oxygen, consider using a layer of clear sealer to coat and protect your brass from oxidation.
Cast iron is one of the most durable and long lasting metals but it's not without its faults. It can rust and corrode if it's not properly cared for.
Painters Tip: When refinishing antique cast irons or other objects made from iron once you have removed all the rust prime, paint and lacquer it for a pristine look and finish.
Watch it. Do it.
Check out
TysyTube Restoration
on YouTube to Learn
How to Restore Antique Tools, and Household Items to Their Original State.
CPCA Member Products
Buy from the Best
CPCA Member Companies and their products comply with ALL Canadian regulations – making them the most sustainable products available on the market. When you choose paint and coatings products manufactured and sold by our members you are choosing quality paints with product formulations that have been engineered to the highest standards. Take a look at what our members have to offer.
Got an old tool, oil lamp, copper pot, or family heirloom you want to restore? Check out our tutorial on how to paint over metal.