Stunning Stains for Concrete
Concrete is one of the oldest available composites for creating patios, garage and basement floors, and even countertops. It's a versatile, strong, and durable material that will stand the test of time. A good coating gives concrete a durable layer of protection against heavy traffic, abrasion, chemicals, and moisture exposure. It also beautifies the surface, simplifies maintenance and improves skid resistance. There are many staining options for concrete, from acid staining, weatherproofing, clear coating and more.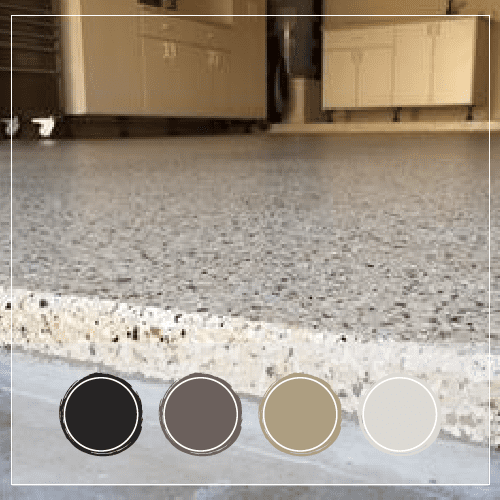 Concrete epoxy floor coatings refer to the many different types of products used to cover the surface of bare concrete to improve the aesthetic look and durability of the concrete. This type of coating requires the least amount of extra work to properly prep the floor and apply the sealer. A two-part epoxy floor coating is considered the most durable for garage floor coating where there is a lot of wear and tear.
Painting Tip: Garage floor coatings can increase the value of your home more than any other flooring. And an epoxy garage coating is a good example of a top home improvement that is cost-effective.
One of the best materials for painting a basement floor is a two-part epoxy paint, which consists of an epoxy resin and a hardener that are mixed together. The hardening action involves a chemical reaction rather than evaporation, and the resulting surface is extremely durable and chemical-resistant finish. The smooth surface means that dirt and dust can easily be vacuumed up or swept away, while spills and stains can be quickly and easily wiped up with a damp cloth. When done well it can last up to 20 years.
Painting Tip: There's nothing difficult about applying epoxy floor coatings—it's almost as simple as rolling paint on a wall or across a porch floor. But before you begin, you need to thoroughly clean and patch the floor to be coated. The finish can be as basic or as glamorous as you wish as the options are limitless.
Faux-Marble Polished Concrete
There is nothing quite as elegant, timeless or luxurious as marble, but did you know you can get it for cheap? Staining your interior concrete floors in a polished faux marble finish creates a look that is stunning and opulent and easy on the bank account. 
Painters Tip: These bespoke one of a kind finishes are often done using two coats of polyurethane. It's important to follow the manufacturer's specifications to attain optimal results.
An exterior driveway takes up a lot of visual space, and while potted plants and elegant fixtures go a long way to creating curb appeal sometimes the best way to tackle the sea of grey is to stain it. Acid staining your concrete drive could literally increase the life expectancy of your driveway to over 100 years with proper maintenance and care.
Painters Tip: Once you acid stains your concrete the colour you choose becomes a permanent part of the concrete floor, the colour will not chip or peel off, so be sure to pick a colour that is classic and will last through the ages.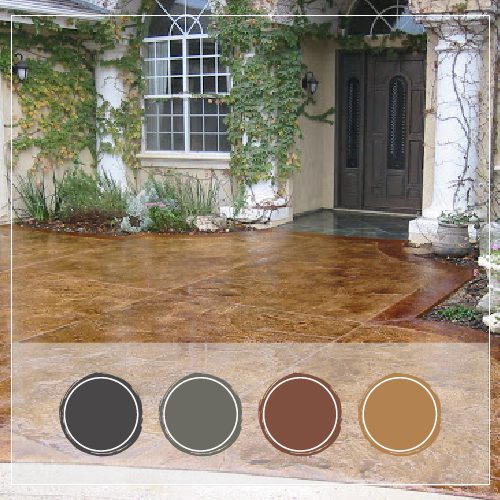 CPCA Member Products
Buy from the Best
CPCA Member Companies and their products comply with ALL Canadian regulations – making them the most sustainable products available on the market. When you choose paint and coatings products manufactured and sold by our members you are choosing quality paints with product formulations that have been engineered to the highest standards. Take a look at what our members have to offer.
Are you looking to create a unique look for your concrete? Whether it is indoors our outdoors take a look at our tutorial on how to acid stain your concrete.