PAINT BEFORE SAILING AWAY
There's nothing more relaxing than time on the water, the wind at your back and the sun on your face in your favourite Runabout or Sailboat. Your boat will always need maintenance and that includes a coat or two of paint every three or four years. Some boats may develop paint blistering or fading, detracting from its appearance on a glassy calm morning or sunny afternoon on the water fishing. Marine paint and coatings are waterproof, protective layers applied to surfaces that are exposed to or immersed in fresh, brackish, or saltwater. They are also used on boats, ships, yachts, ferries, and other watercraft and marine platforms such as offshore oil rigs.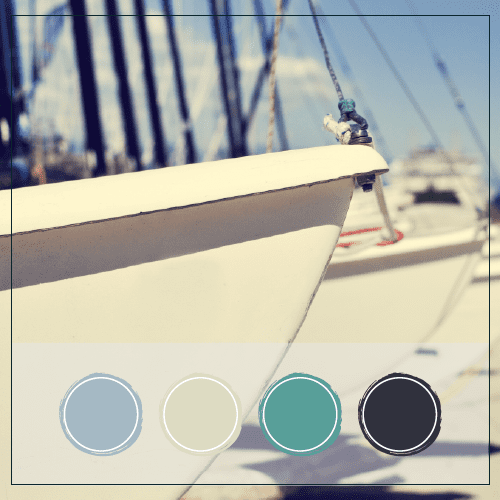 Fiberglass can be painted successfully and painted as you would plastic. Paint the topcoat with two coats of quality, exterior, 100% acrylic paint. Enamel and urethane paints are easy to apply, as are two-part polyurethanes, and have a long-lasting gloss. To keep boat steps from becoming slippery when wet, add non-slip sand texture additive to the topcoat.
For the most durable and even color coverage, most marine crafts need three coats with light sanding between each coat. Be sure to use paint or epoxy that resists weeds, barnacles or water organisms that can dull or grow on the boat's surface. Allow 24 hours to dry, sand lightly and clean off all dust between coats.
Apply one coat of marine coatings primer for wood & fiberglass. Allow to dry four hours and sand smooth with #150 grit sandpaper. Repeat Primer application as necessary to achieve smooth surface. Sand the final coat of Primer with 220 grit sandpaper then finish with two coats of Topside Paint.
Topside paint for boats is an oil-based formula applied above the waterline on both metal and wood surfaces and works well for fiberglass boat paint. These paints can be used to touch-up scratches or minor dents to improve the look of your boat. Marine paint is a high-performance coating for UV resistance, color retention, flexibility and durability, and makes it resistant to cracking, chipping and peeling.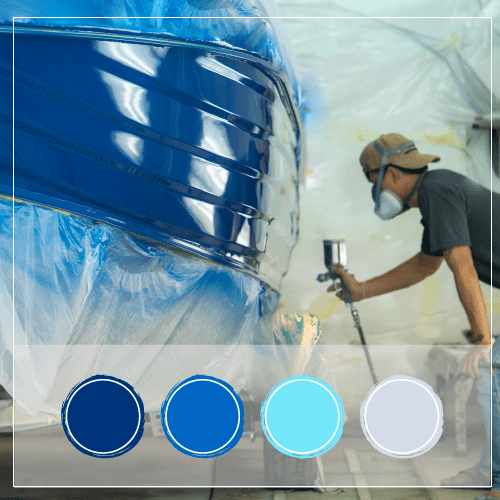 The bottom of boats are constantly exposed to marine micro-organisms, barnacles, algae and all kinds of dirt. When repairing dents and scratches below the waterline of your boat, flat marine paint is best because it includes a hard, anti-fouling coat, and prevents the build-up of micro-organisms. Antifouling paints contain a modified epoxy resin that adds durability to boats including heavily used boats. These paints are ideal for boats of every kind.
Primer for bottom paint is not necessary when the boat is taken down to the gelcoat.
Paint Tips:
Topside and bottom boat paint can be applied to fibreglass, metal and wood. 
First, clean the area where you'll be painting using a soft cloth and mineral spirits as needed, then let dry.
Use a brush or sponge to apply the paint. Topside paints dry in up to two hours. For the bottom of the boat wait four hours before putting the boat back in the water. It must be dry!
One quart will cover approximately 100 square feet. Follow manufacturer directions at all times.
When repairing dents and dings below the waterline on your boat, it is best to choose a flat marine paint that includes a hard, anti-fouling coat.
Epoxy can be over-coated without sanding if done within 12-18 hours of the last coat at room temperature
The sooner the better, once the last epoxy coat is not sticky to the touch the next coat can be applied. If in doubt wait and then sand the previous coat with 80 grit sandpaper to remove all shiny spots and ensure a good secondary bond. Typically 2 coats can be applied in a day and a third coat the following morning. This sequence means only one round of sanding at the very end is needed before priming and painting.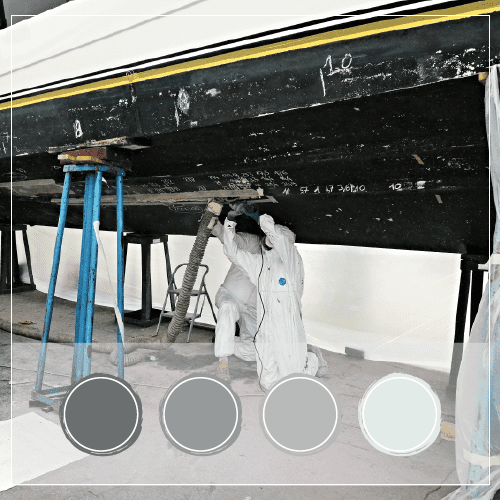 Watch it. Do it.
Check out
Boatworks Today
on YouTube to Learn
The Differences Between Gelcoat or Paint.
CPCA Member Products
Buy from the Best
CPCA Member Companies and their products comply with ALL Canadian regulations – making them the most sustainable products available on the market. When you choose paint and coatings products manufactured and sold by our members you are choosing quality paints with product formulations that have been engineered to the highest standards. Take a look at what our members have to offer.
Sailing and Boating are Not Just a Passtime, it's a Lifestyle. Check out CPCA's Pinterest Board Boat Touch-Ups and Refinishing for tips and tutorials on maintenance!