The kitchen is often described as the heart of the home, the most utilized living space, and the epicentre for the family. It is also one of the most expensive renovations a homeowner will take on, but it doesn't have to be. Repainting can be done in a couple of days but may take longer if you're considering repainting the cabinetry. Take a look at styles, trends and colour options below for inspiration before you tackle your painting project.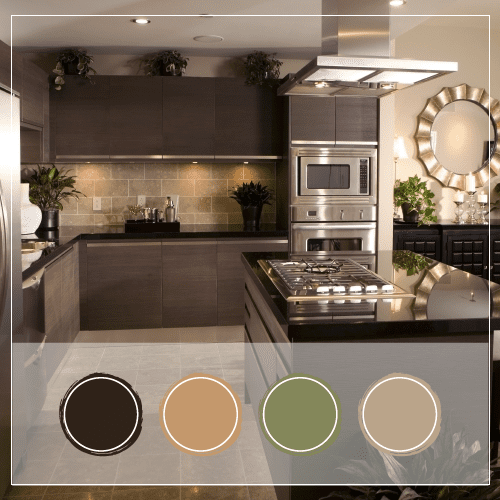 If you're looking to create a dramatic impact and enticing mood for dinner guests, the use of rich dark chocolate tones, juxtaposed against warm caramel hues, fresh greens and sleek stylish metallics will create a kitchen that is sure to impress. 
Slim and sleek lined cabinetry with clean stainless steel appliances work together to create a warm and inviting space, the use of soft greens and natural accents will help soften your overall design and create a warm and inviting atmosphere.
Painting Tip: Paint colours should remain true to the colour sample or paint chip, but some factors affect how they may appear to the human eye when paint dries, such as the type of light source. Flat has a chalky finish when dry and can make a colour appear slightly lighter. Semi-gloss and gloss finishes typically make a colour appear darker. Eggshell finishes usually hold most true to their swatch colours. Metamerism, a psychophysical phenomenon in which colours look different under differing circumstances, can also play a trick.
Bold use of colour can lift the tone of a room and change a country home to a modern and brazen kitchen. With the use of firery reds, cool black and wrought iron accents, calming and warm wood tones reflected in the sleek cabinets and softened by the quartz countertops this kitchen is set to impress.
Painters Tip: When wanting to match the colour of your wall to the colour of your kitchen cabinets it's best to first check your swatches against your cabinet, or if possible bring a sample wood piece into your local paint store. The second step would be to choose a few paint colours and purchase samples and paint the wall. Wait to see what the colour looks like when dry and then purchase the full amount of paint you need.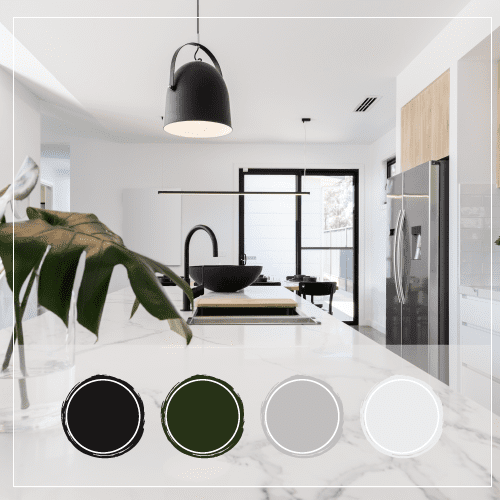 Creating a sleek and contemporary kitchen is all about clean lines, light and airy colour palettes, and effective yet minimal contrasting elements. In this kitchen, there are varying hues of white and light greys used to paint the walls to compliment the light wood cabinetry and the stainless steel appliances and black wrought iron accents and fixtures. The use of marble for the countertop creates a soft yet stately focal point in the room.
Painters Tip: When using white as the main colour in your room be mindful of the undertone. There is no such thing as 100 per cent pure white, it will inevitably have either a cool or warm undertone, with hues of blue, grey, yellow or other. If the look you are going for is a crisp and sharp select white paint that has a blue undertone. If you want a more warm and inviting white look for a white paint select with a warm yellow or golden undertone.
Minimalism is a bold and beautiful way to design and renovate your kitchen. With sleek clean lines, use of minimalistic design, tone on tone, and modern fixtures and faucets create a kitchen that is stunning as it is simple. 
Painters Tip: Some may be wary of painting their kitchen black. Dramatic, dominant and dark are just some of the words that may come to mind when considering this colour. However, black can make a room just as open and airy as white when the right hues and finishes are chosen leaving you with a velvety and inviting modern kitchen. 
Country charm has taken a new modern twist these days with the use of streamlined lighting fixtures, elegant faucets and herringbone backsplashes. These modern touches are complemented by the use of warmly stained wood beams, and hardwood floors.
Painters Tip: When staining wood pick a stain that matches the colour you want to see once the finish has dried and been sealed. Remember that once you apply a finish or sealant, the stain will appear a little darker due to the glossy finish. 
Traditional elegance continues to be a mainstay in kitchen design. Architectural features like arches, shaker style cabinets, and grand ranges and fans makes this white kitchen crisp, elegant and inviting. The barn-style elements like the door or the lighting fixture and wood chairs add a sense of warmth to the kitchen and the grey and white hues that cover the walls are soft with light and warm undertones. 
Painters Tip: When using a primarily white and grey colour palette make sure that the undertones of both the grey and white are the same otherwise the end results may create unwanted contrast.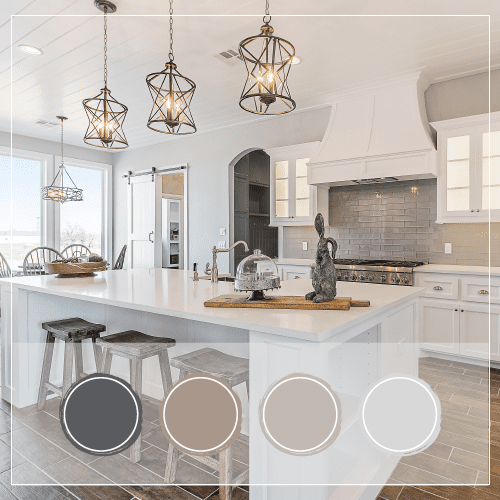 Watch it. Do it.
Check out
DIY Network
on YouTube to Learn
How to Paint Kitchen Cabinets Step-by-Step.
CPCA Member Products
Buy from the Best
CPCA Member Companies and their products comply with ALL Canadian regulations – making them the most sustainable products available on the market. When you choose paint and coatings products manufactured and sold by our members you are choosing quality paints with product formulations that have been engineered to the highest standards. Take a look at what our members have to offer.
Ready to take on your next painting project?
Read our step-by-step tutorial — a five day tutorial for the fiercest of weekend warriors.