Use the Right Tools for the Job
Once the renovation and decoration season arrives it's hard to know where to begin. Whether you're taking on an interior or exterior painting project your results will only be as good as the tools you use to prep, prime and paint. Preparation is the most important step for any project. CPCA members sell a variety of paint tools for both interior and exterior use. Below you'll find a listing of general tools you'll need prior to preparing a room to paint — consider it a list of must-haves for your paint-it-yourself toolkit.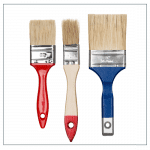 Paint Brushes
There are a variety of brushes available in different widths, sizes and angles. When shopping be sure to ask your retail associate which brush size and angle is best suited for your project.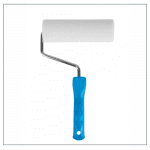 Rollers
With the variety of brushes available you can imagine the same applies to rollers. There are varying thicknesses of ply, foam, lengths and uses. Foam rollers, for example, are better used in certain applications than thick ply rollers that might be used when painting the ceiling. Ask a retail associate for details.
Extension Pole
Extension poles are often sold in sets, or by particular brands so be sure to pick up a matching roller cage and extension pole. The extension pole will help you reach and cover high walls and also support the application of an even coat of paint.
Sandpaper & Sanding Block
Many projects will require sanding in between coats, or prior to putting your first coat of primer. Ask your retail associate for 80 – 120 grit sandpaper. A good sanding block will have a nice handle and solid grip to make sanding easy and comfortable.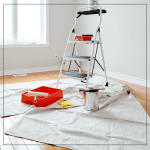 Drop Cloths
To protect your floors from paint drips be sure to pick up one or two drop cloths. Drop cloths are large cream coloured canvas sized at approximately 6' x 9'.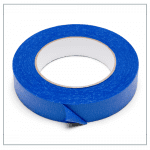 Painters Tape
There are a few types of painters tape. Painter tape has varying adhesive levels applied to the tape and is designed for specific uses such as taping baseboards or taping and preparing your wall for a stencil or design. Ask your retail associate for more details.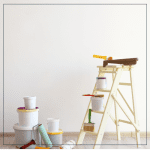 Step Ladder
You'll want to have a step ladder handy for when you need to cut along the ceiling or if you are painting hard to reach walls and places. When cutting a room, you don't want to have to balance a paint can in hand while cutting along the ceiling edge. Smaller paint buckets, liners, holders, and clips help make cutting an easy job.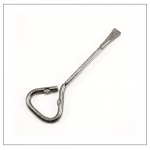 Paint Can Opener
Love this little tool! It replaces the use of a flathead screwdriver to pry open the lid and it's so easy to use!
Mixing Sticks
If you are painting a room using an old can of paint or even paint that has been sitting for 5-10 days you'll want to have mixing sticks handy to stir your paint until it is one solid and consistent colour. Otherwise, you'll need to return to the store and have them shake the can again.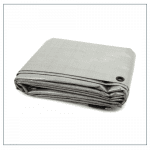 Plastic Tarps
Like drop cloths, these are handy tarps in varying sizes that can be used to cover furniture, walls, and other things in and around your painting area and protect them from paint drips and spatter.
Putty & Spackling Knives
Putty and spackling knives will come in handy when you are prepping your room. These tools also come in different sizes, shapes and widths so be sure to ask your retail associate which one is best to use for your project.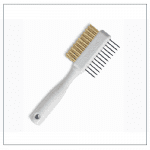 Painters Comb
A painters comb is used when removing excess and possibly close to dry paint from your paint brush. With soap and warm water wash your paint brush then comb through the bristles to remove excess paint and help rinse out your brush, you can finish the cleaning job by spinning your paint brush with a paint brush spinner.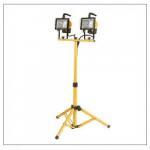 Portable Lights
Nothing is worse than painting in dimly lit circumstances. Portable lights illuminate your working area, allow for extended painting time – especially in the winter months, and help you see clearly if you have missed any areas while painting.
CPCA Member Products
Buy from the Best
CPCA Member Companies and their products comply with ALL Canadian regulations – making them the most sustainable products available on the market. When you choose paint and coatings products manufactured and sold by our members you are choosing quality paints with product formulations that have been engineered to the highest standards. Take a look at what our members have to offer.
With a PIY-ers master tool list in hand — learn the steps to paint a room that is simple and easy!